The Carousel of Happiness recognized from the beginning that lessening our impact on the environment is deeply important to our community.  While planning the build, it was determined that the Carousel House could be a great demonstration opportunity for LEED design concepts and sustainable building strategies.  In June of 2022, the Town of Nederland launched it's participation with the State Green Business Recognition Program, and the Carousel of Happiness was the first Nederland business to complete the certification process.  We celebrated our Gold level status, and the re-launch of the Colorado Green Business Program, with other green businesses across the state, and are proud to be a part of the movement that promotes a healthier relationship with our environment.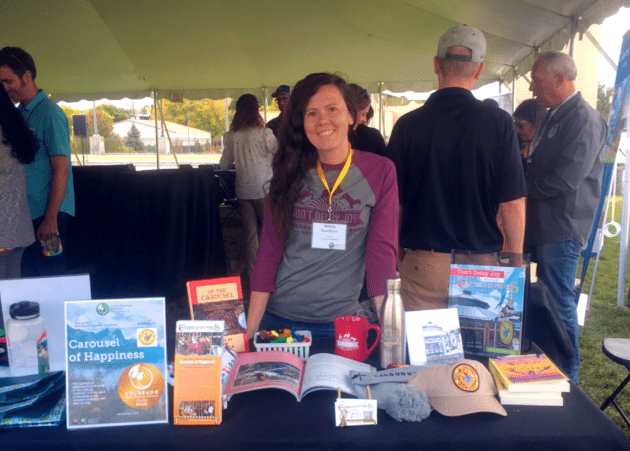 Sustainable Elements of our Building:
– Solar Panels provide 100% of our electricity needs during a few summer months, and about 30% or more during winter months.
– Radiant Heating throughout the floors is an efficient way to keep the building warm and cozy.
– Low flow bathroom fixtures support efficient water use.
– Materials used in construction demonstrate that new builds can lessen their impact with good material choices (cool metal roof, low-VOC paints, recycled carpet, and more).
Sustainable Practices of our Organization:
– Diverting landfill waste when possible (Recycling, Composting, and Re-Using).
– Sourcing merchandise and building needs locally, prioritizing Nederland-area businesses and artists.
– Providing cost-of-living raises for all staff, and ensure staff are supported and encouraged.
This list is not exhaustive of all the efforts we take here at the Carousel to care for our planet and our community.  We are proud of the Nederland businesses that committ to sustainable practices, and look forward to seeing a few more get certified in 2023!
For a list of all certified businesses in the Colorado Green Business Network, and information about what they do, see the CGBN website.