2023 Annual Fundraising Gala
Join us for a night out with all the animals!  
Doors open at 6:30pm.  Dinner will be served at 7:00pm, and a live auction will occur at 7:30pm, with a silent auction available to browse 6:30pm tp 9pm.  
Decent Bagel is catering with a three-course comfort meal, then we'll end the night with live music and dessert around 8:00pm.
And of course we'll take a few spins on the Carousel throughout the night!
Saturday, November 11th

Doors open at 6:30 p.m.

Carousel of Happiness, 20 Lakeview Drive, Nederland, CO 80466
Tickets to the Dinner, Auction, & Performance:
$85 per person
Includes appetizers, entree, drinks, and dessert.
Register by Oct 11 and get $10 off each ticket!
Tickets to the Performance Only (Begins at 8:00 p.m.)
$20 per person
Does not include food.  Drinks can be purchased for an additional charge.
All proceeds from the event (including ticket sales, auction sales, and donations) support the maintenance of our mechanism and animals as well as the mission of the Carousel of Happiness to promote happiness, joy, and service to others through stories and experiences.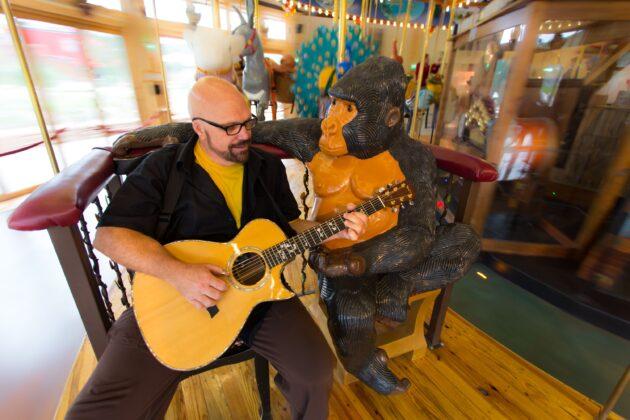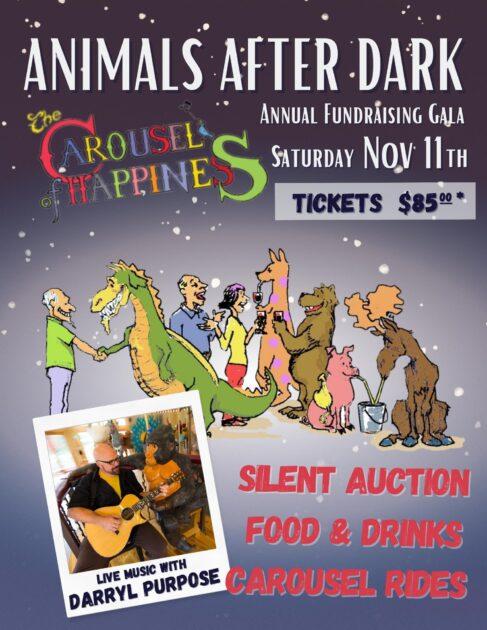 If you cannot attend, please consider making a donation!
Photos of last year's 1920s themed gala in June 2022!
Want to support the carousel and attend our event?  Have a local business you'd like to advertise for?  Let's help each other out!
Bronze Level – $250
Get a pair of tickets to the event, special shoutouts with event advertising, and a spot for your business cards at the Carousel House.
Silver Level – $500
Get a pair of tickets to the event, special shoutouts with event advertising, and a large sign hung at the Carousel House for a month advertising your business.
Gold Level – $1,000
Help us adopt an ornamental animal for a year!  Get a pair of tickets to the event, special shoutouts with event advertising, and a large sign next to your adopted animal advertising your business, plus social media shoutouts throughout the year.
Citywide Banks – $1,000
Crosscut Pizzeria – $250
B&F Mountain Market – $250
Music with Darryl Purpose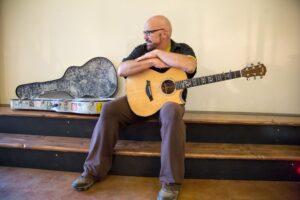 Darryl Purpose really likes a good story and as such he has leaned into them whenever they come near. 
A master of the 'narrative' folk tradition, Purpose has earned a reputation as a top-shelf songwriter and performer with a keen eye for detail and an uncanny knack for subtle twists that engage his listeners through his unusual, beautiful melodies and personal stories.
Purpose's love for telling stories is almost as compelling as the life he's made for himself. As a teenager, he hitchhiked to Las Vegas and began a legendary career playing blackjack. A few years later he joined a "March for Peace" that began in Los Angeles and walked across the country to Washington, DC. He then continued on to walk in the then Soviet Union. He began performing music on the marches, including participating in the first ever outdoor stadium concert in Russian history, produced by the legendary Bill Graham and featuring Santana, James Taylor, Bonnie Raitt and others. 
In his thirties, Purpose began his current vocation as a performing songwriter. He has released 8+ albums of original material. The previous two, Still The Birds and Next Time Around, spent weeks at #1 for airplay on Roots Music Report. His 2021 single release, Dave Carter's Gentle Arms Of Eden, was the #1 played song in the world on the FolkDJ list for July 2021.
Purpose is inspired by the love of friends, the teachings of Thich Nhat Hanh, and the beauty of trees, water and land – especially mountains.
For his new release, Two Good Hands EP, Purpose offers with just three songs a compelling, somewhat-off-center outing that sweeps up the listener with brilliant imagery and engaging vocals. The project was recorded in 2021. Purpose, a Blackjack Hall of Fame member, explains, "Those are two of the best two hands in blackjack. Thus the title." 
Before recording began, Purpose heard what he deemed "the best music ever made by a humans." It was the album "Soil In The Sky" by Heather Maloney. Purpose reached out to the producer, Ryan Hommel, and shortly afterward they were working on these tracks. Hommel, is known for his work with not only Maloney but also Seth Glier and Amos Lee. Purpose says, "He did a masterful job with these songs."
The first song, "Song of Crows," (written with noted author / music critic / songwriter Paul Zollo) is offered from the point of view of an older Johnny Cash. In the song, the narrator pines for his love, explaining that he is "frozen in these bones just dying to be with you, June, I'm dying to be with you." 

On "A Place Where Everyone Sings" Purpose sings "Love writes it's own songs and stories / One day you'll find the place where everyone sings." Written by his friend Mark Josephs, Purpose, then 23, recalls that he met Josephs performing the song on the Atlantic City Boardwalk. "I handed him $2000 cash to make a recording and we were close friends until his death in 2018," Purpose says. "I owe my guitar playing right hand to him." 

The third track, "Eddie and Jules," is drawn from Purpose's experiences as a professional blackjack player. Inducted into the Blackjack Hall of Fame in 2010, Purpose has been called the best and fastest card counter in the world. Co-writer Ryan Hommel added music to a long-lost lyric Purpose had written several years ago.