What better place to celebrate a birthday, anniversary or other milestone than at the Carousel of Happiness! Enjoy the fun atmosphere with upbeat music from our Wurlitzer band organ.
Party Room Rental (during regular operating hours): $75/hour. Our second-floor party room can accommodate a maximum of 12 people. Party guests can circulate throughout the Carousel including the adjacent puppet theatre, but be aware these areas will be open to the public as well. If you would like to rent the puppet theater in addition to the party room, you can add it to your rental for $40/hour and have it for your exclusive use. Party room rental includes 10 ride tickets per hour, tables, chairs and a tablecloth. You are welcome to bring food and drinks and decorate the room as you wish. Additional tickets may be purchased.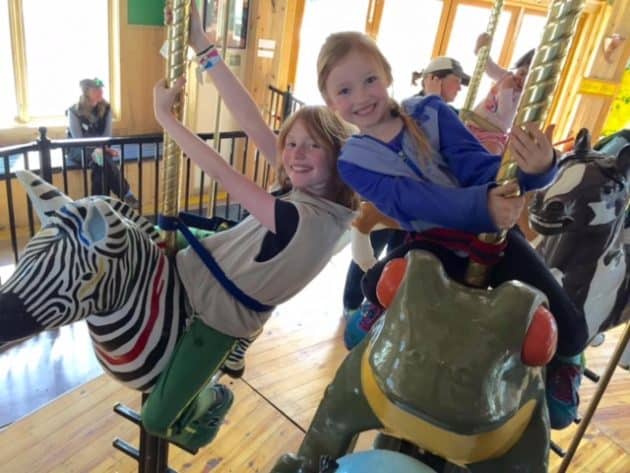 Deposit: A $25 deposit will be returned to you after the room has been cleaned.
Rent The Carousel After Hours
Carousel Rental: $500 for 2 hours. The Carousel building can accommodate approximately 50 people for a special event and offers a unique venue for occasions such as weddings, memorials, birthdays, bridal showers, and more.  A 50% discount is available for non-profits.
The entire carousel is available to rent only after hours. Venue rental includes two employees to operate carousel and assist with the party, unlimited rides, tables, 10 chairs and tablecloths.
You provide food and drinks, and are welcome to decorate if you wish. No alcohol is allowed.
Deposit: A $250 deposit will be returned to you after event cleanup.
Contact Staff now to discuss your particular needs and reserve your date for one of the best party venues around! Fill out the Venue Rental form, call (303)258-3457, or send an email to us at [email protected]