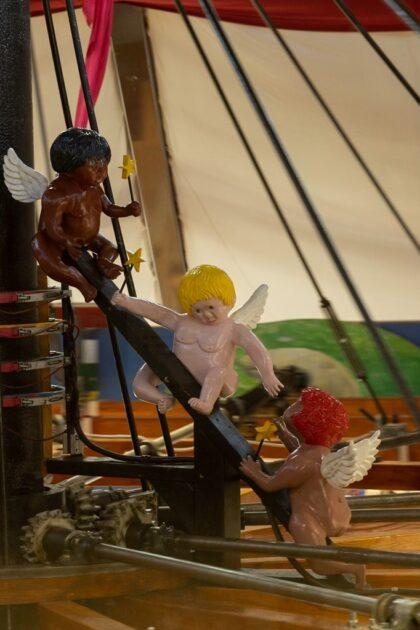 Come and see the newest carved additions to the carousel!  This adorable group of cherubs, carved by Scott Harrison and installed on the carousel February 2, 2023, are ready to meet you.  With unique hair and skin colors, their magical star wands, and wings, this trio sits above the rafters, climbing towards the Twirling Girl.  You can get the best look at them from upstairs using the Carousel Overlook window.
"I wish that friendship should have feet, as well as eyes and eloquence. It must plant
itself on the ground before it vaults over the moon. I wish it to be a little of a citizen
before it is quite a cherub." – Ralph Waldo Emerson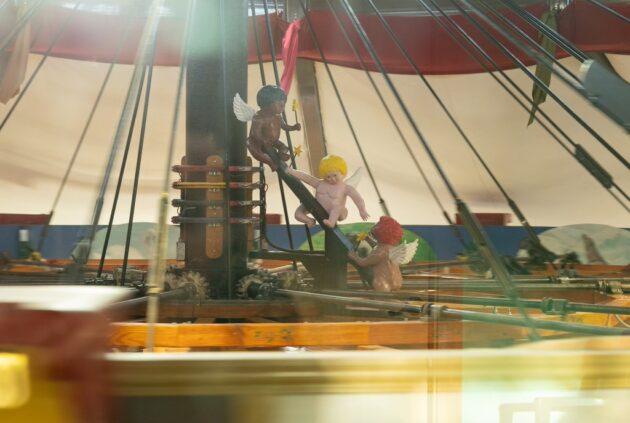 Our three cherubs found climbing in the sweeps and supports of the carousel have a place in ancient Jewish, Christian, and Islamic literature. A cherub is a celestial, winged being who functions as a throne-bearer of the deity. They are seen as protective creatures of the heavens and here we hope that our own three playful cherubs will also help protect the carousel machinery up there.
A Note from Scott: "This represents my second attempt to hide a 2" by 4" board. (See Max's Arm) One of my goals in creating the carousel has been to place it in an environment with few pieces that refer to our known and expected environments where such building materials are visible and prevalent. I am almost certain I am the only person who noticed the black-painted board up there, but I have not been able to rest until I found a way to incorporate it into the joyous design of the machine. The cherubs allowed me to do that.