It's that time of year again!  Join us for FREE RIDES this weekend to celebrate one of our favorite carousel friends who has passed on to "Somewhere Else."
The Carousel of Happiness will celebrate "Mary Wingate Days" this weekend, Aug. 12-13, with free carousel rides for all. Carousel hours are 10 am to 5 pm on Saturday and Sunday, and local residents as well as visitors are encouraged to come by for a spin.
The event honors Mary Quinlan Wingate, a life-long summer resident of Nederland who was known for her kindness and generosity to others. Wingate worked with the Town of Nederland during her lifetime to create two undeveloped parks, and upon her death, donated a parcel of land above Barker Reservoir to provide public access to National Forest land. She also was a strong supporter of the Carousel of Happiness. She died in Fort Collins on June 11, 2020, at the age of 87.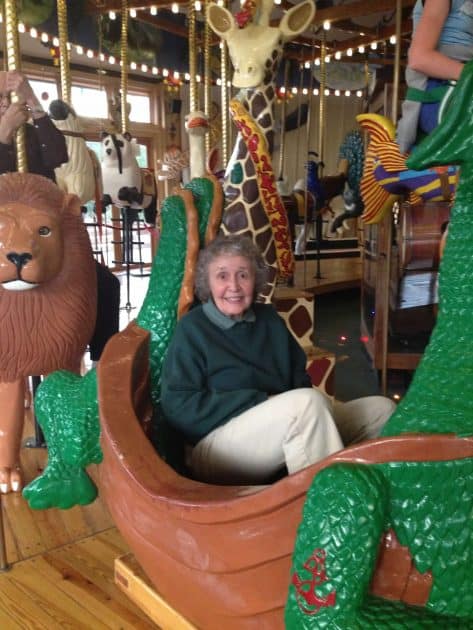 The Quinlan-Wingate family's history in Nederland began with Mary's grandfather, A.J. Valore, who came to Nederland in 1913 to operate a hardware store during the tungsten mining boom. In 1916, Valore built a cabin on land west of the downtown along Colo. 119, which he had been given to settle a debt. It was there that Mary and her brothers came with their parents to spend summers when they were small children. 
The idea of sponsoring a weekend with free carousel rides came up during the planning of the family gathering in 2020. "I was just thinking about what would make her smile," said Mary's daughter, Laurie Wingate who is here from Washington, DC, with her husband Mark. "It's a fun way to feel connected to people and a place that she loved so much."