Help us raise funds to keep the carousel spinning, and choose the next Mayor!
Purchase votes for a donation of $1 each.
You may use your votes however you'd like, and vote as many times as you like.
Votes can be purchased at the front desk, or online using the button below.
Only one candidate per online transaction, $1 minimum donation.
Thank You Carousel Constituents!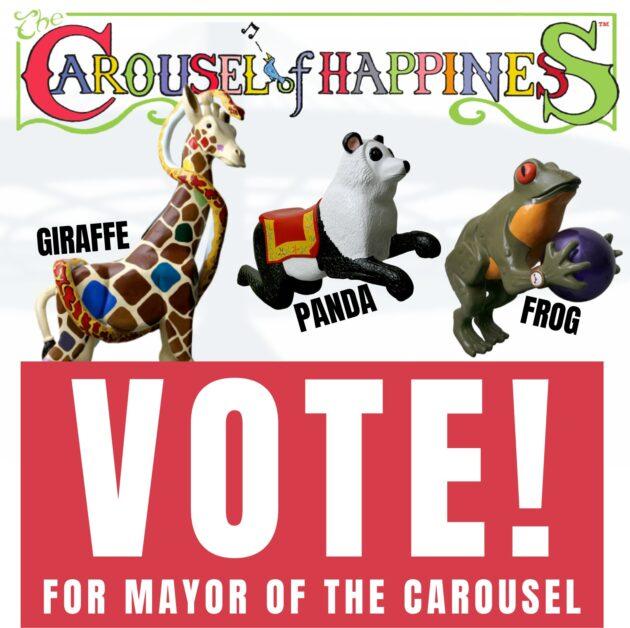 The first Mayor of the carousel was elected in May 2021.  Running on a campaign of being the "coolest" animal on the carousel, Moose was chosen as Mayor because he promised to only spin the carousel – not news!  Now that his 2 year term has ended, three new animals have been nominated to take his place, Frog, Panda, and Giraffe!
Frog, the only amphibian in the race, hopes to "leapfrog" over the competition! In the words of the most famous amphibian, Kermit the Frog, "I think the very best part of creativity is collaborating with friends and colleagues. Admittedly mine happen to be bears, pigs, rats, chickens, and penguins but you go with whatever works for you." If elected, Frog promises to live by Kermit's words and collaborate with all of his fellow COH creatures to further the creativity and inspiration for all who visit to enjoy.
Panda, trained in the ancient ways of the yin-yang, seeks to bring balance to the carousel.  He says "I am not the tallest, not the largest, not the smallest, not the most colorful, but I am in-between and represent the middle ground." In Chinese folklore, pandas are known to ward of evil spirits and natural disasters, so Panda believes his luck will bring him the win!
Giraffe is the tallest, and also most experienced animal in the race. Serving as Moose's campaign manager in 2021, Giraffe knows what it takes to get people out to the polls. Known as loyal, protective and playful, Giraffe promises to stick his neck out for his fellow COH creatures, and reach above and beyond to represent all.
Go vote for your favorite candidate!