NEDERLAND'S CAROUSEL OF HAPPINESS LAUNCHES WHIMSICAL NEW ATTRACTION WITH FREE RIDE DAY
Nederland, CO (March 17, 2014) – The Carousel of Happiness in downtown Nederland will celebrate the coming of spring with the launch of a whimsical new attraction known as "Somewhere Else," and a free ride day on Sunday, April 6.
The Carousel of Happiness was created to transport visitors to a time and place of joy. Now, carver Scott Harrison has unveiled "Somewhere Else," a wall scene in the carousel building featuring fsix new animals coming from and going to, well, somewhere else.
Where is somewhere else, exactly, you might ask?
"The wall is a kind of portal, we think, maybe to a new dimension." Harrison said. "Honestly, we haven't been able to explain it. We'll leave that up to you. But certainly, magic is afoot."
The animals, which include a curious giraffe, a thoughtful chimpanzee and an unlikely bear family, pass through a membrane made of lime and crushed marble in the technique used in centuries-old frescoes.
The public is invited to see the new attraction and ride the Carousel for free from 11am to 6pm. The Carousel is located in the Caribou Village Shopping Center, next to the train cars on Highway 72.
The Carousel and its latest artistic addition were hand-carved by Scott Harrison, a Nederland resident whose quirky 36-animal menagerie has made the Carousel of Happiness a beloved destination for more than 250,000 visitors since 2010. Each of the Carousel figures is an original creation of Harrison and his collaborator, illustrator George Blevins.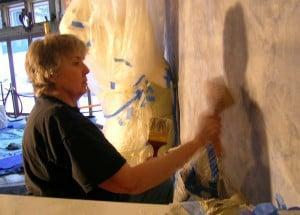 The April 6 free day is offered as a thank-you to regular and seasonal riders, including skiers from nearby Eldora Mountain Resort, as well as an invitation to newcomers to explore the magic of the Carousel.
Editor's Note: The media is invited to visit the Carousel of Happiness to see the new "Somewhere Else" wall between noon and 6pm on April 6. Creator Scott Harrison, illustrator George Blevins, fresco artist Ryan Chivers, and director Katrina Harms will be available for interviews. Please contact Katrina Harms at 303-258-3457 to make arrangements.
Contac
ts: Katrina Harms, 303-258-3457
NEWS RELEASE Director, Carousel of Happiness
[email protected]
Scott Harrison, 303-258-9246
As a non-profit, donor-funded organization the Carousel relies on volunteers and fundraising to keep rides $1 so that people of all ages, circumstances, and abilities can experience that feeling of joy. The Carousel aspires to share proceeds with organizations that serve communities with special needs. For hours and other information, call 303-258-3457 or visit www.carouselofhappiness.org.
­