Purchase Tickets at the Door!
THE MUSIC: ARWEN AND THE GAEL!
We call our music Celtic/Eclectic and when our vocalist Arwen joined the group, she took it to a new level. Her songs range from Sheryl Crow and Loreena McKennitt, to an old Russian cabaret song, and some traditional Celtic songs as well. Our new show is kind of like the Colorado weather: if you hear something you don't like, the next tune will likely be different.
There are some new non-Celtic tunes in the set we will play at The Carousel, and we kept a few of our favorite uptempo jigs and reels. Everyone in the group brings in new songs and tunes to add to our ever-changing repertoire.
AUCTION ITEMS: PREVIEW
Sorry, no online bidding this year! The Live Auction will start at 8:30 pm. Join the fun!
Vintage Kiddie Merry-Go-Round
Description: This 1953 Bert Lane Musical Merry-Go-Round is portable with wheels. It originally cost a dime to ride. When the dime dropped, a 45 rpm record would drop and play music. We have gone over this little two-horse machine, and cleaned and inspected the mechanism. We have replaced the tube-type amp and turntable with a solid state music maker. The Bert
Lane Co. made several types of portable rides such as this throughout the 1950s in Miami, Florida.
Value: $750
Starting Bid $325
Crestone AirBnB: The Delightful Dome, 3 nights with reservation
Description: One-bedroom dome house at the base of the Sangre de Cristo Mountains in southern Colorado, just outside the town of Crestone. Visit the Sand Dunes and nearby hot springs! The interior is both cozy and spacious, with living area on the main floor and a spiral staircase leading to a large loft for yoga, meditation, reading, writing, etc. For more details see https://www.delightfuldome.com.
Value: $400; Starting Bid: $225
Breckenridge Condo, 2 nights over Thanksgiving Weekend (November 23-25, 2018)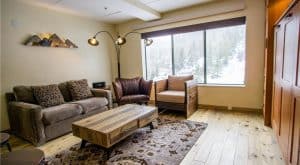 Description: This beautiful and convenient, ski in/out, studio condominium sleeps 4 people. The Beaver Run Resort and Conference Center (www.beaverrun.com) is located at the base of Peak 9 at the Breckenridge Ski Area, just a few blocks from historic Main Street. Amenities include six outdoor hot tubs, an exercise room, arcade and lots more.
Value: $400; Starting Bid: $200
Steamboat Springs Condo, 3 nights in 2019, with advance reservation
Description: Deluxe, two-bedroom mountainside condominium at Wyndham Vacation Resorts in Steamboat Springs. Can be expanded to a 3-bedroom unit for family gatherings if needed. Amenities include indoor and outdoor swimming pools, fitness center, steam room and sauna, outdoor hot tub and children's play area. The Steamboat Ski Area, Strawberry Park Hot Springs, and a variety of annual festivals are just a few of the reasons to visit.
Value: $600, Starting bid: $300
Alpaca Ranch Tour (Magnolia Road, Nederland)
Description: Spend an afternoon in the country. Chill with the alpacas. Take a break and play in nature. In addition to those things, a tour of the Double B R Alpaca Ranch will include schmoozing with Zparkler (she's the model for the alpaca on the Carousel of Happiness) and her friends; learning about all things alpaca, the animals, the fiber, the business; preparing a fleece for the mill; learning about spinning (maybe create your own yarn); doing some weaving; grooming the pony; taking a hay ride; playing in the playhouse; relaxing in the hammock; having a picnic lunch; and taking home some alpaca products. (Surprises: Isn't that more fun?) The time can be customized to your group's liking. There are 17 acres to explore, 19 alpacas, a horse, a pony, a cat and a dog. Oh, and there's a human too! Tour is for up to 8 people.
Value: $350, Starting bid: $200
Nederland Backdoor Theatre
Description: Start a great party for yourself and 11 favorite friends at Crosscut Pizza. This package includes 6 pizzas of your choice. Move on to the Backdoor Theatre for a private showing of the first run movie of the week or a favorite movie of your choice (provided by you). Each guest will receive admission to the movie, a medium popcorn, soft drink and candy bar. It's a special experience to have the whole auditorium for just your group!
Value: $250; Starting bid: $150
Winter Warmer: A Cord of Wood and an Alpaca Blanket
Description: Get a cord of firewood delivered to your home in the Nederland area by Beaver Envy. If you are not in the mood to start a fire, you can cuddle up in your new alpaca blanket donated by the Double B R Alpaca Ranch and pour a glass of brandy donated by Dam Liquor. Winter will be here before you know it!
Value: $400; Starting bid: $200
Earrings, Hand-Forged and Designed by Bill Ikler
Description: These earrings are hand-forged sterling silver, made and signed by Bill Ikler. They are 2 inches tall. For more info, see Bill Ikler Studio.
Value: $85; Starting bid: $40