We had an *almost* white Christmas, and are enjoying winter in the mountains.  As folks head up to ski at Eldora, the Carousel awaits to bring them a smile at the end of the day!
We hope you and your families enjoyed wonderful holiday time over the last few weeks, and celebrated the gift of together-ness!  It was great to see you and your families over Winter Break.  In this special time of year, smiles are dancing through the Carousel house from opening to close!
We hope to see you again on Dec 31 & Jan 1 to ring in a new year of Happiness. We'll be open normal hours both days, 10am-5pm.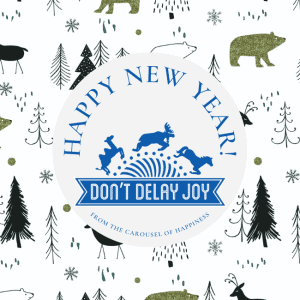 We are also thankful for the tremendous support we received during our year-end fundraising campaign.  We reached our goal, and look forward to finding more ways to make you smile in 2022.  Check back soon for details on our new membership program ~ an opportunity to join our carousel family, support us annually, and receive some great perks, like $1 off tickets.
From all the Carousel Board & Staff ~ We Wish You a Happy New Year!